Draw Plan
The real question is: how do I know who is interested in the house floor plan in the United States?
By doing research on Google trends, and stating the words floor plan, we see that the 5 cities that are most interested in these keywords are:
Austin
Boston
New York
Washington
Jacksonville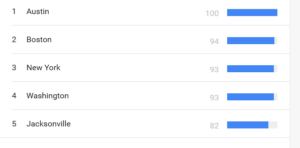 Interestingly, the most popular 5 related queries are:
House floor plan
Floor plan
Open floor plan
Bedroom plan
Floor plan design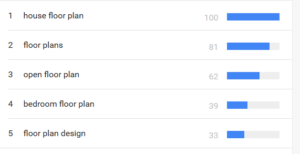 Related queries 1, 2 and 5 are logical and directly dependent on the related query floor plan. More intriguing, the related query 4 focuses specifically on bedroom. Maybe that means that people are more interested in Bedroom, which is perhaps the most interesting room for them.
Finally, the related query 3 is surprising: open floor plan. Why are people interested in this?
By searching on Google with this expression, we find explanations: it is open spaces. This means that many people are looking to make open space plans. And finally, it makes sense. When you want to buy a big apartment and you want to break walls to make an open space, it is essential to make a plan of the apartment beforehand to avoid doing irremediable things.
More: