Draw Plan
Today, I would like to talk to you about 2D and 3D house plans. Because there is more and more software that offers 3D house plans and, curiously, the number of people who use 2D house plan software is always as important.
If you want to create your 2D plan, you need house building software as a free archiplain. You may consider downloading archiplain or other software.
What is the explanation?
But I think the explanation is elsewhere.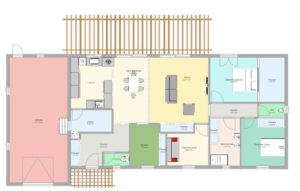 Imagine that I want to create floor plans. I will probably first draw my plans online. Create plan sounds easy, but not that much. And making modern house plans, farm house plans or custom house plans is quite difficult. This requires special skills related to the particular type of house. I'm not even talking about ranch house plans, country house plans or farm which are very specific.
No, the real reason is different


The real reason is this: we all have a greater or lesser difficulty in having a 3D representation of objects.
You all know examples of amusement parks that represent houses upside down, that is to say that the ceiling is on the floor and the floor on the ceiling. In general, after the first laughs to move around, one quickly becomes very disturbed. This is because our visual cues are in trouble. The same goes for 3D house plans. We can make a 2D house plan and with imagination, see 3D. But if the plan is in 3D, we are quickly lost.
Finally, you may prefer 2D or 3D to make your house plans. But the 2 will always exist. It's like paper books and electronic books.
More: