Draw Plan
How to design a good garage plan? A priori, we can think that it is the easiest part to conceive. But it is far from being the case.
First, we must predict its surface. It is generally thought to provide a surface slightly larger than his car. Serious mistake!
Most often, we live in a couple. It takes 2 car slots. And if possible two driveways because with a single entrance, the second car is often more difficult to park.
Second problem: your child just had his driving license and of course he wants a car and still live at home for a while. If you have not planned, your child's car will be every night on the street or on the lawn.
Another thing: you have your garage and the car inside, you are quietly installed in front of your television, and your husband or your wife asks you to look for an object present in the car. It's raining a lot, and you do not have an access door between the house and the garage. Too bad for you, it will be necessary to wait or go out in the rain.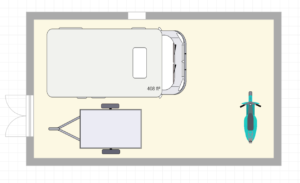 Last thing: For reasons of exposure of your house to the sun, the garage is often located north of the house, where the humidity is the most common. In this case, plan a small window and open it frequently to avoid musty odors. The ideal is to have two windows to create an air circulation.
More: