The first step is to draw the apartment by tracing the walls to create rooms. You can create all types of apartment plan you want, classic or modern. In addition, you can name and choose a color for each room in your apartment to differentiate the bathroom toilet and the living room from the kitchen for example. And then you can vary the thickness of the walls.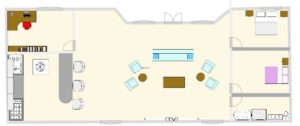 Take the right measures
It is important to take the right measures of your apartment. Indeed, if you have measured the length and width of a room, this means that you are not doing any interior insulation. Even if you add a thickness of one inch, it will reduce the total area of ​​your room. And it can be annoying if you plan to put custom-made furniture.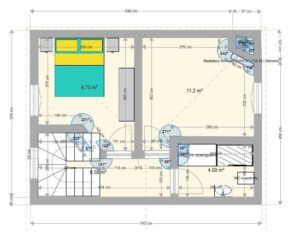 Place the openings
Then place the openings of the different rooms. You can choose the opening direction and add components. There is a catalog of windows and doors available with left or right and sliding doors. Be careful where you put windows. Indeed, you have to take into account the general direction of the wind: if the wind often comes from the West, this means that you will not be able to open your windows when it rains because the rain will enter the apartment. We must also pay attention to the sun and the season. A sun that enters a room in the morning is pleasant. But if it's very hot, it can keep you from sleeping.
When the design of your apartment is complete, you can place the furniture in the bedrooms, the kitchen, the living room and all other rooms.
Caution
Caution should be exercised when planning walls that are not straight. Because the furniture is often straight. Sure, you can make custom furniture, but it's quickly more expensive.
Last thing: don't forget that when you buy a new apartment, it is often possible to combine two or three apartments to make it larger and more comfortable. And if you like terraces, be careful to make a waterproof floor so as not to have water flowing into the apartments below.