Real estate and property news, just for you!
How to make an apartment plan for free
You just bought an apartment, and you start paying the monthly installments. This is the time to plan your apartment. Should we break a partition to meet a bedroom and the kitchen? I need to install a mezzanine? Should I install a shower instead of the bath? For this you need to have an online software like http://archiplain.com/makeyourplan. With this software, you can start right away to make simulations, and do all the tests you want. Take the measurements of your room, and the software will do the following. You can even add accessories like plants!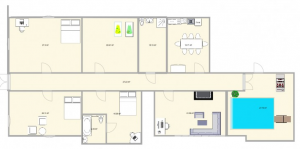 For more information, Click here!
To make a house plan : Click here !